Every dancer knows that November through January is Nutcracker season. Dancers all over the world, from those who dance for a hobby to those who dance professionally, prepare to perform this beloved ballet.
The ballet is accessible, the music delightful, and the story enjoyable to watch, making it the most well-known ballet (which is quite funny considering it's initial failure). It's music is widely used in commercials and movies, so even if you've never seen the ballet you have certainly heard the music.
That's why I thought it would be fun to make a winter reading list based off of major scenes from the Nutcracker (primarily from the second act – because let's be honest, that's the fun one!). With the days getting shorter and shorter and colder and colder, it is the prime time to get your reading done! So many of the texts I've included are classics that you always put off – not this year! I've also included classic Christmas texts that are fun to re-read and a few fun contemporary novels.
So without farther ado, let the curtain be raised on….
"Overture" – A Christmas Carol by Charles Dickens
Any list of winter reads must start with this classic work by Dickens. Just like any Nutcracker ballet has to start with this beautiful piece of music.
"Scene: The Christmas Tree" – The Lion, the Witch, and the Wardrobe by C.S. Lewis
"Scene: Clara and the Nutcracker" – The Gift of the Magi by O. Henry
"Scene: The Battle" – How the Grinch Stole Christmas by Dr. Suess
Because obviously, the only fight scene in the ballet pairs perfectly with our favorite Christmastime villain.
"Waltz of the Snowflakes" – Shiver by Maggie Stiefvater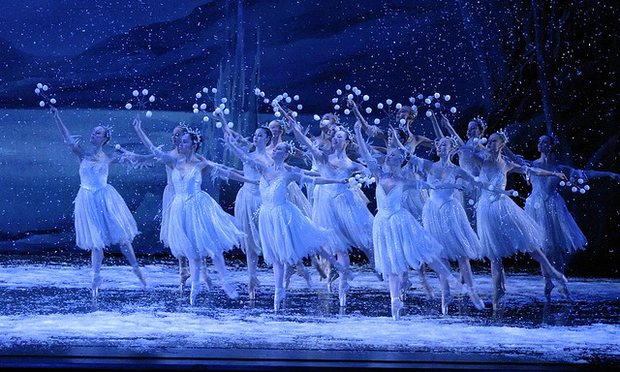 "Divertissement: Chocolate (Spanish Dance)" – Don Quixote by Miguel de Cerventes
For each of the divertissements I chose a work written by the nation represented in the dance.
"Divertissement: Coffee (Arabian Dance)" – Tales of 1001 Nights by Anonymous
"Divertissement: Tea (Chinese Dance)" – Mao's Last Dancer by Li Cunxin
"Divertissement: Trepak (Russian Dance)" –  Anna Karenina by Leo Tolstoy
"Divertissement: Dance of the Mirlitons" – The Hunchback of Notre Dame by Victor Hugo
"Divertissement: Mother Ginger and Polichinelles" – Little Women by Louisa May Alcott
"Waltz of the Flowers" – The Secret Garden by Frances Hodgson Burnett
"Dance of the Sugar Plum Fairy" – The Night Circus by Erin Morgenstern